POSTPONED! Doctoral Concert. Ksenia Rossar (soprano)
26.02.2022 at 17:00
Suur saal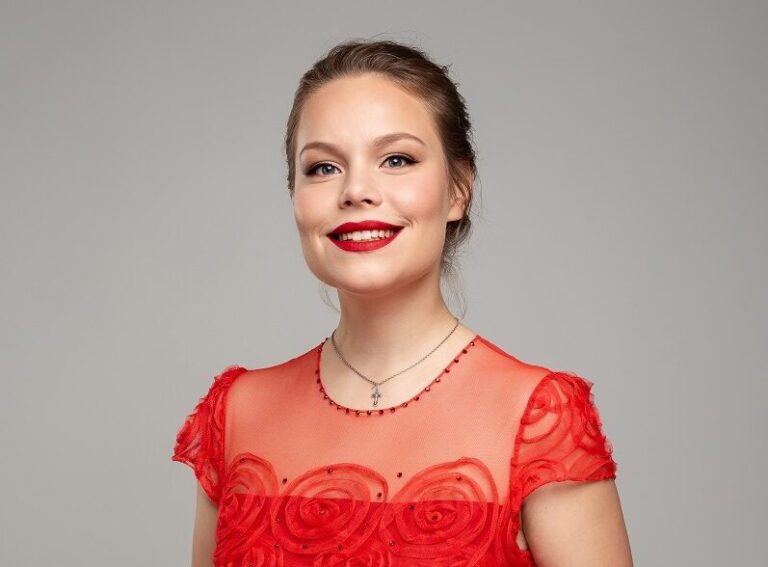 The concert will be postponed due to the performer's illness. The concert will take place on March 15 at 7 p.m.
Kaastegevad Kristi Kapten (klaver), Marten Altrov (klarnet)
Kavas Rahmaninov, Nyman, Argento, Griffin
TASUTA PILET FIENTAST JA TUND ENNE ALGUST KOHAPEALT
Ksenia Rossar (1988) alustas 2006. aastal kompositsiooniõpinguid Eesti Muusika- ja Teatriakadeemias Tõnu Kõrvitsa juhendamisel. 2009–2012 õppis laulu erialal Milanos G. Verdi nim konservatooriumis (juhendajad prof Jenny Anvelt ja prof S. Doz). 2011 lõpetas ta bakalaureuse õpinguid laulu erialal EMTA-s (prof Mati Palm) ja seejärel 2016 magistrantuuri (prof Eva Märtson-Wilson). 2019. aastal alustas õpinguid EMTA doktorantuuris prof Helin Kapteni juhendamisel. Konkurssidel on ta pälvinud järgmiseid auhindu: II koht ja parima naislaulja eripreemia Mart Saare nimelisel laulukonkursil (2007), noorima osaleja eripreemia IV rahvusvahelisel Alida Vane noorte lauljate konkursil Ventspilsis (2007), rahvusvahelise Klaudia Taevi konkursi finalist (2013), I preemia ja eripreemia III rahvusvahelisel Tiit Kuusiku nim Lied'i konkursil (2014), 2017. aastal oli ta Vello Jürna nim ooperilauljate konkursi finalist, Pjotr Slovtsovi nim rahvusvahelise ooperikonkursi finalist (Krasnojarsk) ja Jean Sibeliuse nim konkursi III koht (Turu). Oli 2012. aastal rahvusvahelise Richard Wagneri ühingu stipendiaat.
Ksenia on eriti huvitatud kaasaegsest vokaalkammermuusikast, esitades Schönbergi, Saariaho, Šostakovitši, Argento, Larseni, Szymanowski, Štšedrini loomingut ja esiettekandeid sellistelt heliloojatelt nagu M. Kessick, M. Kõrvits, A. Kruusmaa, A. Viale, M. Vihmand, T. Y. Ho ja B. Yung.
NB! Üritusel saavad osaleda üksnes need täiskasvanud, kes on vaktsineerimiskuuri läbinud või COVID-19 haiguse läbi põdenud. Alates 1.11.2021 peavad üritusele pääsemiseks COVID tõendi esitama ka 12–17-aastased (kaasa arvatud). Vaktsineerimiskuuri läbimise või haiguse läbipõdemise tõendi kõrval kehtib alaealistele ka koroonaviiruse PCR või antigeen-RT testi negatiivse tulemuse tõend. Kohapeal testimist ei toimu. Kõigil vähemalt 12-aastastel külalistel on kohustuslik kanda maski ning koos tõendiga esitada isikut tõendav dokument.