Composition and Music Technology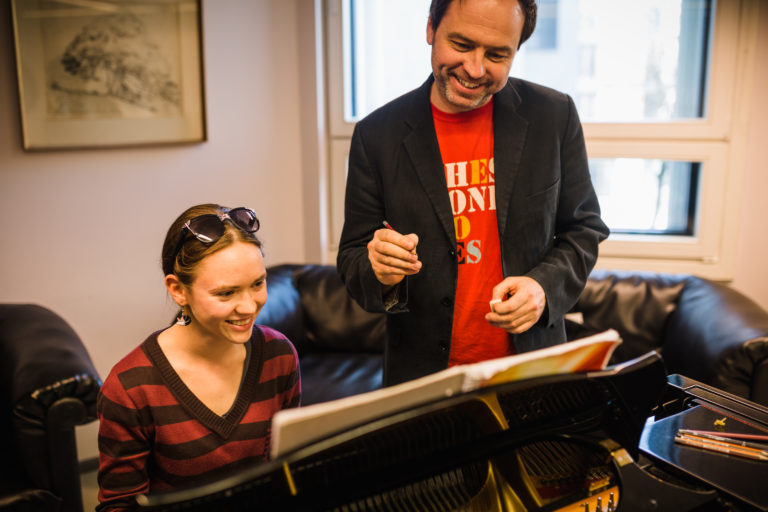 The main objective of the composition studies is to educate students in classical music composition, electroacoustic composition, audiovisual composition and recording arts.
These independent, but closely integrated curricula establish a creative synergy that supports individual creative endeavours in each specialist field.
All composition curricula, including recording arts, form a coherent and complementary whole, not only due to the structure of the curriculum. Most of the faculty members do not guide students in only one specialist field: students of other curricula also complement their skills with professors specialised in classical composition, while classical composition students can be guided in the well-equipped electronic music studio by specialists in electroacoustic music.
In addition to choosing between four fields of study, students can choose from a variety of creative mentors from different fields, who have different aesthetic and creative beliefs. It is not obligatory for students to study under the guidance of only one professor, which means that they can take part in different creative visions throughout the course of their studies.
Students are not constrained by strict academic restrictions, which is vividly demonstrated by the numerous concerts that take place throughout the academic year offering widely different stylistic preferences from chamber and electronic music all the way to symphony concerts.
Electroacoustic and audiovisual composition studies
Studies in electroacoustic composition, sound engineering and audiovisual composition combine musical, artistic and technical creativity. The sound studio offers a learning environment under the guidance of acknowledged professionals. The music-filled atmosphere of the school and high demand for technological skills and solutions create an excellent basis for practical activities. 
The audiovisual composition curriculum aims to integrate the innovative world of visual art into musical thinking; students are guided through studies on traditional and electronic music, history and the visual arts. Painting, photography and animation are treated in terms of musical parameters and should be seen as an extension of sound art and compositional approaches. The curriculum includes many subjects from other fields of art: students can learn about editing, film semiotics, colour theory, etc.
Due to the interdisciplinary nature of the curricula, the composition programme collaborates with the Estonian Public Broadcasting, the Baltic Film and Media School and the Estonian Academy of Arts.