Voice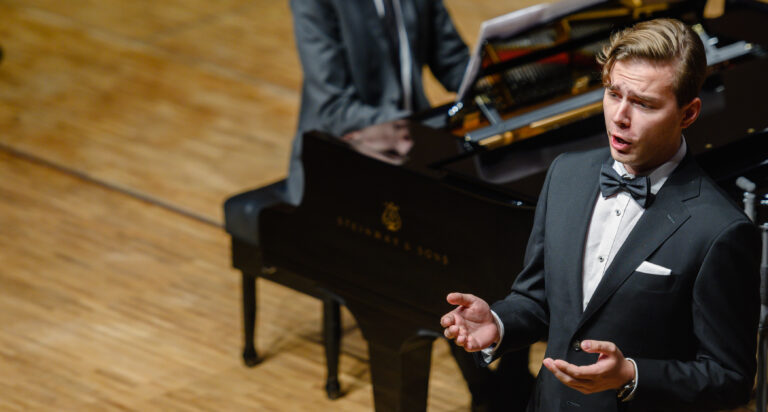 Voice studies offer classical courses dedicated to repertoire from Baroque to late Romanticism, while also studying the respective singing schools. Contemporary techniques and 20th and 21st century music are also included in the curriculum.
The main focus is on individual lessons, while regularly held concerts offer performance opportunities for the students. It is considered important that the students are given a comprehensive preparation for their future work on concert stages and in professional opera theatres: the curriculum includes acting skills and the theory of theatre, elocution and stage speech, body techniques and stage movement, as well as dance and stage makeup from different eras.
Students in the master's programme can focus more specifically on opera or oratorial and ensemble singing. A teaching module is also available.
In the Opera Studio, roles and excerpts from operas are prepared with guidance from different directors, conductors, choreographers and pianists. Every spring, a full opera with the participation of the most distinguished voice studies students is performed to the public. The Estonian National Opera has been a partner in many of the productions.
Altogether over fifty operas have been staged over the years, most in collaboration with professional (music) theatres, directors and conductors. Thomas Wiedenhofer, Georg Rootering and Stephan Jöris (Germany), Pekka Saloma and Ilkka Bäckman (Finland), Kim von Binzer (Denmark) and Giorgio Bongiovanni (Italy) have all worked with the Opera Studio students. The EAMT Symphony Orchestra and students from the Stage Design Department at the Estonian Academy of Arts also collaborate in staging the Opera Studio performances.
The oratorial and ensemble singing study content focuses on singing in different styles, from baroque to contemporary. During the two-year master's program, the student acquires experience in singing in a capella ensembles as well as in making music with various instrumental ensembles. The program covers both early music, 19-20. century chamber music and contemporary music.
Major Opera Studio projects

Pergolesi "La serva padrona" (2018)
Purcell "Dido & Aeneas" (2016)
Meder "Die beständige Argenia" (2011)
Händel "Rinaldo" (2011), "Orlando" (2018)
Mozart "Le nozze di Figaro" (1976, 1988), "Così fan tutte" (1980), "Die Zauberflöte" (1991, 2005), "La finta semplice" (2006), "La finta giardiniera" (2009, 2021)
Cimarosa "Il matrimonio segreto" (1984, 1994, 2003, 2013)
Donizetti "Don Pasquale" (1992), "L'elisir d'amore" (1986, 2002, 2015)
Puccini "Suor Angelica" (2007, 2016), "Gianni Schicchi" (2007)
Tchaikovsky "Eugene Onegin" (2001)
Rossini "La cambiale di matrimonio" (2002), "Signor Bruschino" (2001), "La scala di seta" (2012)
Menotti "Telephone" (2000, 2012), "The Old Maid and the Thief" (2010)
Bernstein "West Side Story" (1993)
Boris Blacher "Abstract Opera No. 1" (2020)
Carl Orff "Der Mond" (2022)