Doctoral Concert. Anna-Liisa Eller (Estonian Kannel)
11.06.2021 at 19:00
Tallinna Toomkirik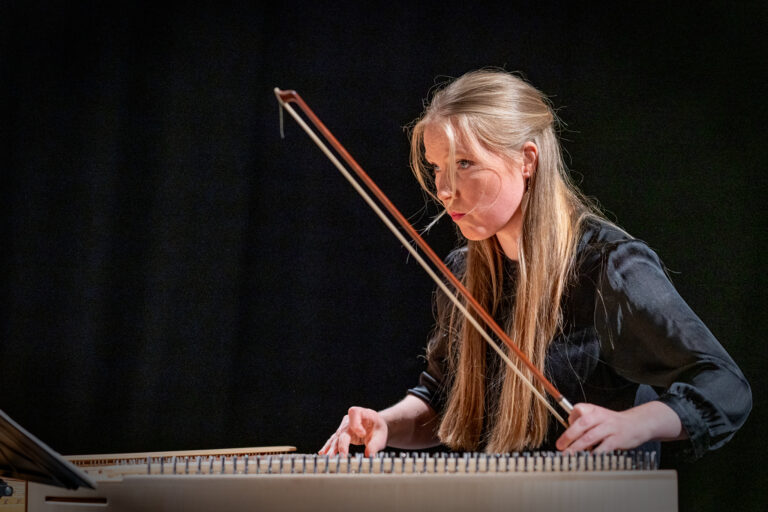 Foto: Rene Jakobson
11. juunil 2021 kell 19.00 toimub Tallinna Toomkirikus (Toom-Kooli 6) Anna-Liisa Elleri IV doktorikontsert koostöös Tallinna Keelpillifestivaliga. IV doktorikontsert keskendub sel korral poogen- ja soolopillide repertuaarile ning on tihedas seoses Anna-Liisa doktoritöö teemaga "17. ja 18. sajandi instrumentaalmuusika kohandamisest Eesti kromaatilisele kandlele". Ettekandele tulevad teosed heliloojatelt Machy, Abel, Rameau, Biber, Vivaldi, Palestrina ja Hume.
Rohkem infot tallinnakeelpillifestival.ee.
ANNA-LIISA ELLER (1988) lõpetas 2014. aastal Eesti Muusika- ja Teatriakadeemias magistrikraadi cum laude Kristi Mühlingu kandle klassis. Aastal 2013 täiendas ta end Lyoni Kõrgemas Riiklikus Muusika ja Tantsu Konservatooriumis prof Yves Rechsteineri ja prof Rolf Lislevandi juures ja 2013–2014 Trossingeni Muusikakõrgkoolis prof Rolf Lislevandi juures. Alates 2016. aasta sügisest jätkab Anna-Liisa õpinguid Eesti Muusika- ja Teatriakadeemia doktorantuuris, juhendajateks prof Toomas Siitan ja prof Imbi Tarum.
Alates 2010. aastast õpetab Anna-Liisa Eller kannelt Georg Otsa nimelises Tallinna Muusikakoolis ja 2016 Tallinna Muusikakoolis. Tema erihuviks on varajane muusika ja kaasaegne muusika. Ta on osalenud mitmete Eesti ja rahvusvaheliste ansamblite töös, seda nii solisti kui ansamblistina. Anna-Liisat seob aktiivne koostöö ansamblitega Supersonus (juunis 2019 valmis ansambli esikplaat koostöös plaadifirmaga ECM), Oni Wytars, Vox Clamantis, Floridante, Rondellus, The Bright Future Ensemble jt. 2021 aasta sügisel valmib Anna-Liisa sooloplaat "Strings Attaced The Voice of Kannel" koostöös plaadifirmaga Harmonia Mundi.