The European Union Youth Orchestra is looking for the new members!
All applicants for the 2023 Orchestra must be aged between 16 and 26 inclusive on 31 December 2023 and hold passports from one of the 27 European Union member countries. Precise rules and regulations are available here.
The auditions will take place in two rounds:
Pre-auditions for the strings are to be confirmed. For the wind, brass and percussion there will be 2 pre-auditons on 26 November @15.30-21.00 in C-405 and on 28 November @10.00-15.00 in the Great Hall;
Final round on on 29 November 2023 at 10.00 in D-511.

Repertoire
Candidates will be asked to play a prepared piece of their own choosing (eg a movement from a concerto, sonata etc) and a selection of orchestral extracts.
NB! Percussionists will be asked to play a selection of prepared orchestral extracts only (no piece).
How and when to apply
All the candidates are requested to fill in the application on the EUYO homepage latest by 15 November 2023.
The EUYO, founded in 1976, is by now one of the world's pre-eminent symphony orchestras that has worked with many of the world's greatest musicians including Daniel Barenboim, Leonard Bernstein, Herbert von Karajan, Mstislav Rostropovich and particularly its three Music Directors and current Chief Conductor: Founding Music Director Claudio Abbado, former Music Director Vladimir Ashkenazy, former Music Director and current Conductor Laureate Bernard Haitink, and Chief Conductor Vasily Petrenko. The spring and summer tours take place in the EUYO residency in Grafenegg, Austria, followed by concert tours. You can read more on the tour venues, conductors, soloists and repertoire of the 2023-2024 season here.
Questions and additional info:
Kai Kiiv
6675 721
kai.kiiv@eamt.ee
The new academic year of the Estonian Academy of Music and Theatre begins on 28 August.
10:00 opening meeting of the academic year for the academy faculty and staff will be held at the Great Hall.
12:00 opening ceremony for new students at the Great Hall, followed by introductory meetings (information about the start time and room will be sent by the head of studies).
In addition, we are inviting all our first-year students to take part in the orientation week, which will take place from 28 August to 1 September. International students' guideline can be found here.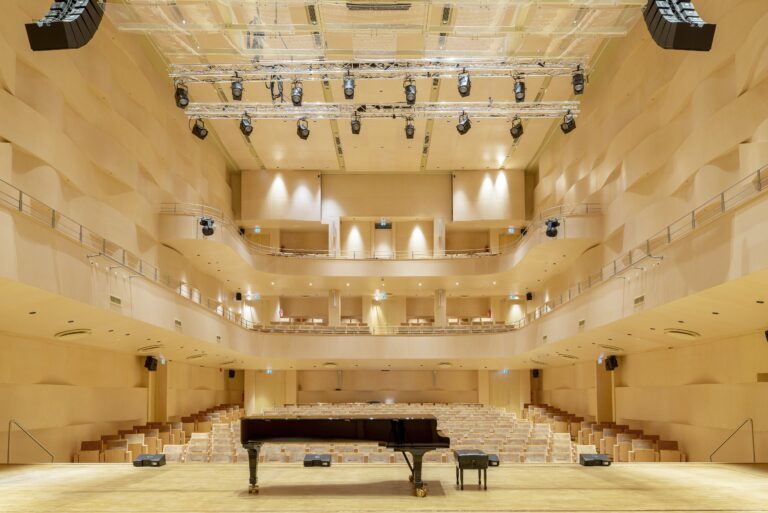 The Estonian Academy of Music and Theatre is announcing additional admission for a small number of study places for the academic year 2023‒2024 in the following curricula:
Choral conducting (Bachelor's Studies, Master's Studies)
Woodwind and brass (Bachelor's Studies, Master's Studies)
Keyboard (Bachelor's Studies, Master's Studies)
Early Music (Master's Studies)
Contemporary improvisation (Master's Studies)
Applications and other documents must be submitted by 20 August via e-mail to: vastuvott@eamt.ee.
Application form is here.
Entrance examinations will take place from 21 to 25 August.
The renowned Latvian composer Pēteris Vasks will give a lecture on Monday, May 22 at 12:00 in the Organ Hall of the Estonian Academy of Music and Theatre, which will be followed by a composition masterclass in class B-201 from 14:00 to 17:00.
The music of Latvian composer Pēteris Vasks is often associated with his country's struggle for independence. Indeed, one of his best-known works, the symphony Voices composed in 1990-1991, symbolically and historically reflects Latvia's final steps to freedom. Deeply rooted in the rich folk tradition of Latvia, Vasks' haunting composition invites the listener on a cyclical journey from the timeless beauty of nature's voices emerging from silence to the heartrending cacophony of despair and back to the tranquility of silence. Critics who discuss Vasks in the context of his Latvian inspiration and artistic debt to Witold Lutoslawski nevertheless acknowledge his originality, his characteristic soulfulness, and melodic subtlety, as well as a universality of expression that identifies Vasks as a major European composer.
Born in 1946, Vasks, who studied the double bass at the Lithuanian State Conservatory from 1964 to 1970, worked as an orchestra musician in the 1960s and 1970s. Vasks studied composition with Valentinus Utkins, at the Latvian State Conservatory in Riga, graduating in 1978. Working as a composer since the late '70s, Vasks has forged an original musical style, which commentators have described as spiritual, powerfully evocative, and richly expressive. Vasks' entire oeuvre is informed by the tragic dichotomy between humanistic ideals, symbolized by the vastness of nature and the historical realities of violence and despair. Vasks teaches composition at the Emil Darzins Music School in Riga. His works include Cantabile (1979), Musica Dolorosa for string orchestra (1983), and Lauda (1986), for orchestra.
EAMT master's student Otto Iivari's ambisonic work "Weightless" won the second place in the International Sonosfera Ambisonic Competition (ISAC) 2023 in Pesaro, Italy. The awards ceremony and the final acousmatic concert will take place on June 9th in Pesaro, Italy, in the Sonosfera deep listening theatre.
Given the very high number of candidates from 26 countries, the outstanding artistic and technical quality of the submissions, the non-standard 3D-audio listening venues needed for the evaluation of each piece, the preliminary, intermediate and final anonymous selection was for the jury extremely difficult and competitive. The results were as follows:
1st PRIZE: "Khemenu" by Nikos Stravropoulos
2nd PRIZE: "Weightless" by Otto Iivari
3rd PRIZE: "ní nán" by Wey Yang
1st Mention: "Scène aux champs" by Jean Marc Duchenne
2nd Mention: "La porta nel dado" by Jakob Gille
ISAC competition is based on an idea of Eugenio Giordani, emeritus professor of Electroacoustic Music Composition at the Conservatory G. Rossini of Pesaro, who imagined a competition for the Sonosfera in early 2020 just before the first wave of the pandemic. Eugenio passed away due to Covid-19 on April 4th 2020. As Director of LEMS (Laboratorio Elettroacustico per la Musica Sperimentale founded in 1971) for more than 40 years, Giordani has been the master and inspiration of several generations of electroacoustic composers, among whom all the organizers of this ISAC-2023 competition. Together with David Monacchi, Eugenio was the promoter of SPACE (Soundscape Projection Ambisonic Control Engine) the first 21.1 full-periphonic studio and listening venue in Italy, a facility built specifically for 3D-audio production and music composition, opened to the public in 2013. ISAC competition is thus permanently dedicated to Eugenio Giordani, whose work and tools in musical informatics, sound engineering and aided electroacoustic composition still inform current practices of composers and sound designers on a local and global scale. Learn more: https://isac-pesaro.github.io/
Otto Iivari's works have been internationally recognized several times before: in the fall of 2022, "Thở" was recognized with a gold medal at the VI European Student 3D Audio Competition, the same work won the audience's favorite title at the "Audio mostly" conference. In spring of 2022, the work "Dunes" was mentioned at the 15th International Destellos Electroacoustic Composition Competition in Argentina.
Otto Iivari's compositions "Thở" and "Weightless" can be heard in an ambisonic sound environment at the concert exam for graduates of electroacoustic composition on June 2 at 7 p.m. in the EAMT black box.
On Tuesday, June 20 at 7 pm, the gala of the graduates of the Estonian Academy of Music and Theatre in 2023 will take place in the Great Hall of the Estonian Academy of Music and Theatre, where the graduates of this year will perform. Tickets for 10 euros are available at Fienta here and one hour before the start on site. Admission is free for students and pensioners, but please take a free ticket from Fienta.
On Wednesday, June 21, we welcome our audience to XXVI  Suure-Jaani Music Festival, where the musicians of the EAMT will take part in one concert. At 19.00, the EAMT Symphony Orchestra will perform in the hall of Suure-Jaani School, the soloists will be graduates of 2023, conducted by Toomas Vavilov. Tickets for 15 and 12 euros are available at Fienta here and one hour before the start on site.
On Thursday, June 22 at 2 pm, the graduation ceremony of the Estonian Academy of Music and Theatre will take place in the Great Hall, where the graduates of 2023 and the EAMT Symphony Orchestra will perform under Toomas Vavilov. Invitations will be available for the graduates and their guests and there will be a live broadcast on the EAMT YouTube channel which can also be viewed in the black box and the chamber hall.
We invite contributions to the yearbook Res Musica, the 16th issue of which will focus on the role of popular music and culture for people and communities. In particular, we welcome articles examining the meaning of subcultural belonging in the 21st century, focusing on 'hidden' histories.
We welcome articles of 6000 to 8000 words in Estonian or English, and collaborations between researchers and practitioners are welcome. Please send abstracts of up to 300 words by 1 September 2023 to brigitta.davidjants@eamt.ee. The deadline for articles is 31 January 2024.
Res Musica is an international peer-reviewed journal (ERIS classification 1.1.) published by the Department of Music Research and Management of the Estonian Academy of Music and Theatre and the Estonian Musicological Society. The 16th issue will be edited by Brigitta Davidjants, Research Fellow at EAMT and coordinator of the Music Studies and Management curriculum.
Res Musica is indexed in the following databases:
Scopus (Elsevier)
RILM Abstracts of Music Literature with Full Text
EBSCO (Academic Search)
The Estonian Academy of Music and Theatre offers study opportunities for Ukrainian war refugees.
Since the brutal Russian invasion of Ukraine on 24 February 2022, the Estonian Academy of Music and Theatre has been actively involved in helping students who are citizens of Ukraine and has offered study opportunities to war refugees arriving from Ukraine.
Ukrainian students are invited to start or continue their studies at EAMT, thanks to the state support the study is in 2023/2024 free of charge during the academic year. Currently, 16 Ukrainians are studying at the academy.
Additional information:
Tiina Uibo
International Students Advisor
tiina.uibo@eamt.ee
+372 6675 722
Psychological assistance:
Elina Kivinukk
EAMT psychologist
elina.kivinukk@eamt.ee
Additional information: https://kriis.ee/en/security-situation-europe/ukrainian-war-refugees
EAMT charity concerts in support of Ukraine
On 6 March 2022, the Estonian Academy of Music and Theatre organized a charity concert in support of Ukraine. The concert can be watched here.
On 14 and 16 March 2023 two charity concerts dedicated to Ukraine took place in the Great Hall of EAMT, more information here.
In autumn 2022, the Estonian Academy of Music and Theatre launched its first Erasmus+ BIP project as a leading partner. The project week in Tallinn will culminate on April 21 with a concert at the EAMT festival COMMUTE.
The BIP project, "Monteverdi Mosaik", brings together students from various European music universities, including the Sibelius Academy of the University of the Arts Helsinki, the Norwegian Academy of Music, the Latvian Academy of Music, the Conservatory of Venice, and the Rovigo Conservatory, as well as EAMT students of early music performance and composition.
The project also features the Italian contemporary music ensemble Azione_Improvvisa, consisting of Margherita Berlanda (accordion), Pierpaolo Dinapoli (electric guitar), Daniela Fantechi (electronics), and Andrea Antonel (theorbo). The ensemble will perform the works of young composers created within the project, alongside the works of the composer Claudio Monteverdi, which inspired the project.
The resulting concert, "Magus piin / Sweet torture", weaves together new compositions and early baroque music, with young musicians performing Monteverdi's works and Azione_Improvvisa performing the new compositions.
Throughout the project, students have attended online meetings and lectures, and in mid-April 2023, they will come together for a project week in Tallinn. Einike Leppik, supervisor of audiovisual composition at EMTA, manages the project's content side, with support from members of Azione_Improvvisa and faculty members from participating higher education institutions. Mari Köhler administers the project on behalf of the International Office of EAMT.
The Erasmus+ 2021–2027 program period offers many new opportunities for cooperation with partner schools across Europe. Erasmus+ Blended Intensive Programmes (BIP) are short and intensive programs between partner universities in different countries, involving both virtual and on-site teaching. The program culminates in a project week in one of the participating school's countries, with a minimum on-site duration of five days and online study both before and after the contact study.
For more information, visit https://emtasaalid.ee/uritused/commute-5-magus-piin-sweet-torture/.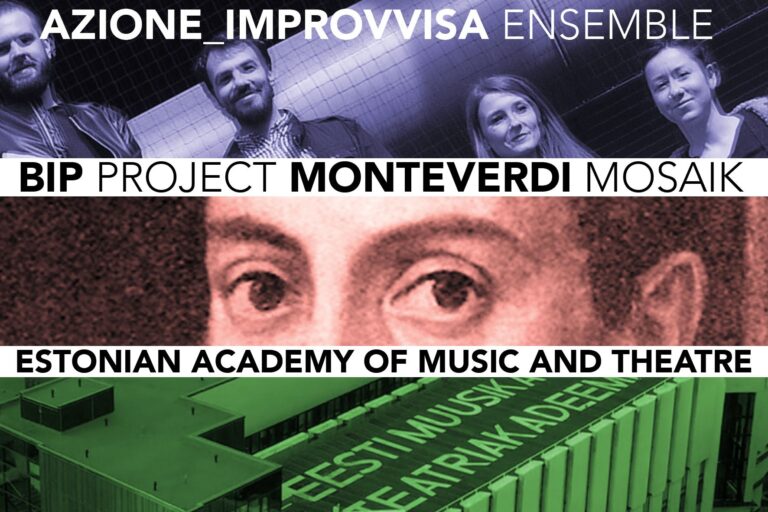 Estonian universities celebrate World Sleep Day on Friday, March 17, combining creativity and research to raise awareness related to sleep.
Sleep week at the Estonian universities is a collaborative initiative by the psychologists working at the Estonian Academy of Music and Theatre (EMTA), Tartu University, TTK University of Applied Sciences and from the mental health website Peaasi.ee (Head Matters). Estonian University of Life Sciences has also joined the sleep week activities. The main objective of the week is to promote sleep hygiene tips among the students and staff. Concrete tips for keeping regular sleep and good sleep hygiene will be shared via web-site, Instagram and Facebook. Several articles will be published and online-seminars will be held by the psychologists.
What is special about the sleep week in Estonia? Campaign has been launched to find new sleep songs. 31 songs have arrived, which will be played in the evenings via Instagram Live (look for peaasi.ee). As a follow-up, sleep songs will be broadcasted via Classical radio show "Fantaasia" on March 31.
This year cooperation with the Estonian Public Broadcasting's radio channel for classical music (Klassikaraadio) has been enhanced. Each evening of the week at midnight a short sleep routine practice will be guided (in Estonian) to promote regular sleep and create a peaceful environment.
Test your sleep habits here (in Estonian) https://ivlv.me/IRe7H.
On Instagram, emta_psychologist shares daily recommendations and research results to motivate you to make small changes in your sleep habits.
Read more at https://peaasi.ee/en/mental-health-vitamins/
World Sleep Day is an opportunity to promote sleep health alongside thousands of other sleep health professionals and advocates. The theme for this World Sleep Day is Sleep is Essential for Health. Just like eating well and exercising, sleep is a behavior that is foundational to one's physical, mental, and social well-being.
Contact:
Elina Kivinukk
EMTA psychologist
elina.kivinukk@eamt.ee