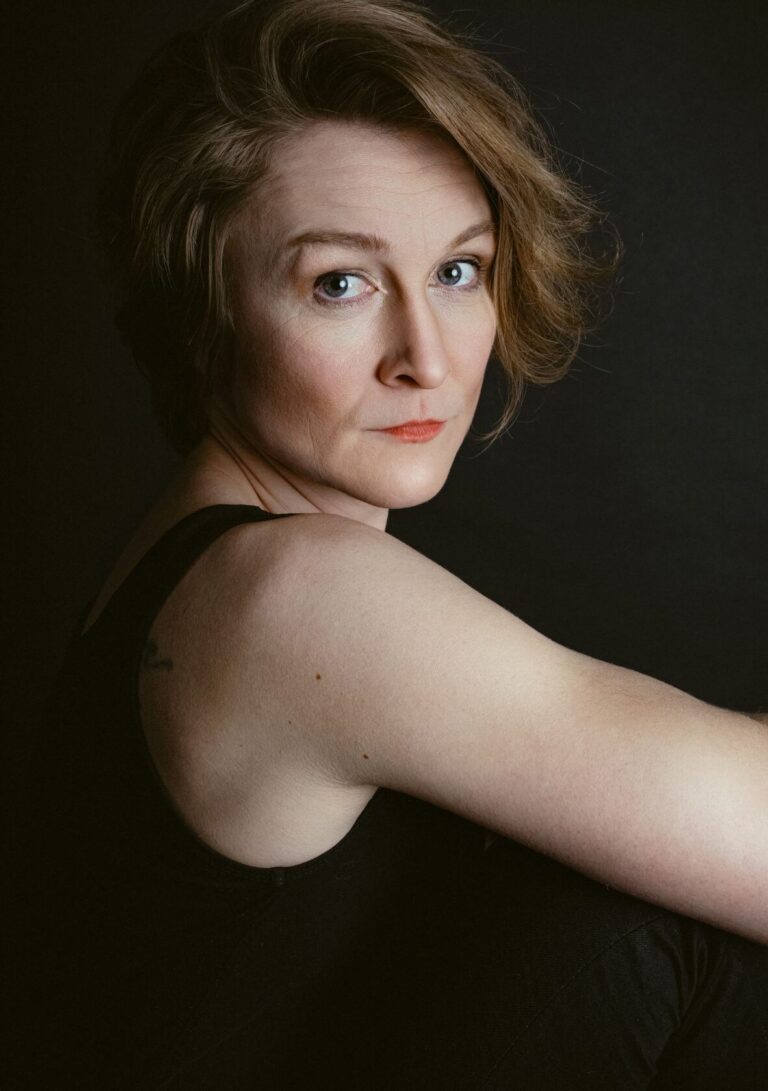 Photo by Lisa Sen
Katia Skylar
Katia Skylar is an actress (FIA), performance artist, and butoh dancer. Katia's institutional path toward performing arts went mostly through her studies at Uniarts Helsinki's Theatre Academy (Finland), Escola Superior de Arte Dramática de Galicia (Spain), and Arcada University of Applied Sciences where she got her MA in Culture and Arts (2019) with the thesis research devoted to Free bodily movement in a creative process. Katia also got experience and learned in other fields of humanities: photography, public relations, Japanese language and culture, information science, and media studies. Gradually by testing things out she narrowed them down to something she loves, can do well and towards something she can share with the world unconditionally – acting, performing, and provoking.
In 2016 Katia Skylar together with Anna Olkinuora, an actor and performance artist formed a duo UtoUto and worked closely together for three years, starting with the performance Transitions. In 2017 UtoUto directed a performance To Dare at the Eve's Ribs Festival of Feminist Art (St Petersburg, Russia). The most significant work of UtoUto was The Body– trilogy devoted to the themes of expectations on the (female) body and body image. The trilogy included participatory performances Body Experience(d) and My Body – My Rebellion and a theatre performance Body Interrupted. The pieces and excerpts of the trilogy were performed at different venues in Helsinki and St Petersburg in 2018 and 2019.
Katia enjoys interdisciplinary collaborations, and collective or directed creation balanced with independent solo work. Her latest body of work includes:
Descansos performance video created together with a videographer Maria Bayat for an International Contemporary Art Exhibition Quantum Critic curated by the gallery Myymälä2 (Helsinki and St Petersburg, 2020);
The Taste of Remembrance – an interdisciplinary performance devised together with cellist Laura Martin and videographer Maria Bayat, performed at the Helsinki Butoh Festival 2020;
short films Voodoo (dir. Abiola Washington, 2021) and People City Shapes (dir. Silvija Bumbak, 2021) which were included in the program of the Tampere Film Festival 2022;
Get down from their and other remarks  – a parkour/modern dance performance choreographed by Jukka Tarvainen and produced by Zodiak Center for New Dance (Helsinki, 2021);
Presence Y – a site-specific solo piece performed in Globe Art Point (Helsinki, 2021) and Compostival (Peniche, Portugal, 2022);
Ladies (mini) and The Baltic Waves – collaborative performances at different venues with guitarist-composer Yunjia Liu (Helsinki, 2022);
Concordia – a performance inspired by Chiharu Shiota's exhibition and directed by Ken Mai, a Helsinki-based Japanese butoh dancer, teacher and choreographer, Emma – Espoo Museum of Modern Art (Espoo, 2022).
In 2019 Katia became an active member of Dramatic Combat Finland – to practice choreographed fighting for stage and screen. In 2021 (slowed down by COVID-19) she received her certificates in unarmed and single rapier combat in Nordic Stage Fight Society – to be followed by testing the broad sword, quarterstaff, and other weapons in the close future.
Bodily movement is the core language of Katia's acting and performing projects, where movement interpretation of a spoken word is created with the physical theatre methods, dance, and dramatic combat. In terms of dialogues, Katia likes to experiment with the multilingual approach. Among the themes she is interested to work with: limitations, gender roles and expectations, non-human entities, feminine presence, and finding beauty in the mundane brutality. She also enjoys working with site-specific and audience-driven projects.
Katia is also a co-founder of a podcast Besedka s akcentom ("Беседка с акцентом") where together with Varvara Shumova and their guests they discuss devotion and passion in life.
Recently, Katia started studying the Master of Arts in Contemporary Physical Performance Making (CPPM) at the Estonian Academy of Music and Theatre (2022-2024).
https://www.youtube.com/channel/UC4QmcsVnsGPmppv1C9mSIzA