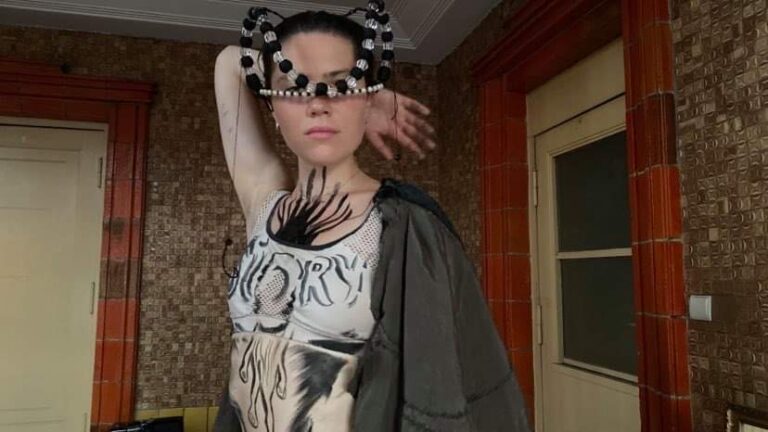 Misia Żurek
Misia Żurek (2000) is a performance artist, researcher and adventurer from Poland who loves creating spaces for others. She graduated from Adam Mickiewicz University in Poznań from Bachelor in Interdisciplinary Individualized Studies in Humanities and Social Science with major in Theatre Studies. She also did one year at Paris College of Art and an intensive physical theatre program in Academia dell'Arte in Arezzo. 
For 3 years she was a part of Młody Teatr Ruchu (Young Physical Theatre) in Poznań with which she did performances called "Hen" and "Inventory" and participated in two projects one in Ivano-Frankivsk (Ukraine) and the second in Blossin (Germany). 
She performed in two clips for Ola Winnicka's project Siory – one for the song "Kłącze" and the other for "Film", also danced with her at Dym Festival in Sejf club in Gorzów Wielkopolski.
Her interests are also touching social issues, and so as a part of Common Collectiv she spoke with her body about what she felt after anti-abortion laws strikes, to present the group performance at "For the times being" exhibition organized by Art University in Poznań. Her group had an occasion to present this performance at Fama Festival in Świnoujście. 
She also worked with ShortWaves Film Festival and performed in the projects "Life in Loops" and "Hybrid" in the series of Hotel Europa, which aim was to give space to exchange opinions about the past, the presence and the future of Europe.
She actively expend her interests in socially engaged theatre and dance, participating in Erasmus+ Academies for Actors of Civil Change projects and organizing workshops – in Poznań and Paris. 
She started as well to combine her multiple interests –  ecology, design, philosophy and cognitive science within her artistic research practices.