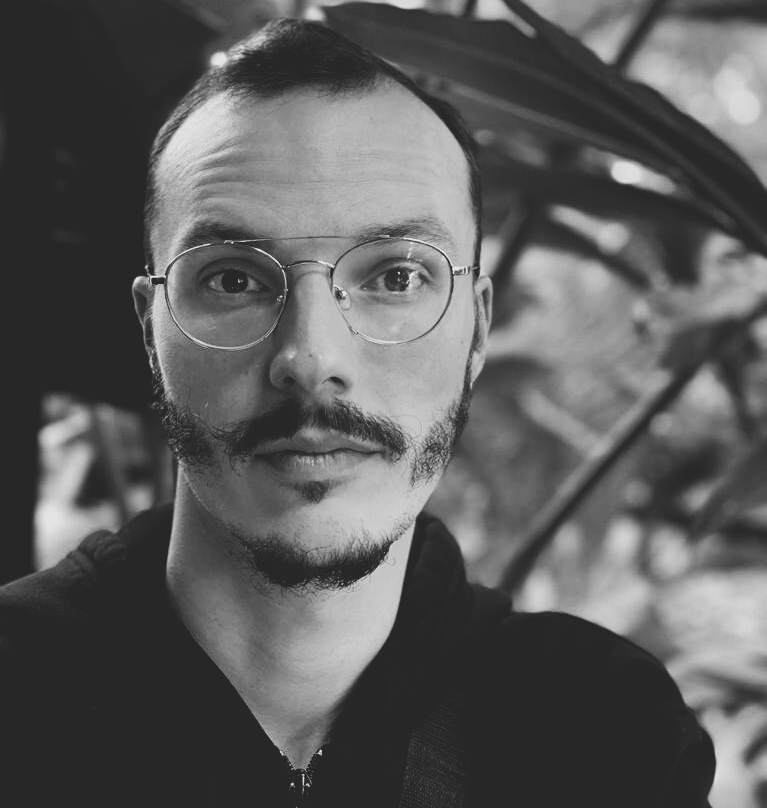 Javier Cárcel Hidalgo-Saavedra
Javier Cárcel Hidalgo-Saavedra (1990) is a theatre-maker, actor, and singer born in Valencia, Spain.
His practice plays with storytelling, exploration of sound and alive singing, dramaturgical burning territories, buffoon, grotesque, irony, and the research on organic physical action and movement. His work navigates between tradition and contemporary artistic expression. As a researcher, he is fascinated by the potential of performance as a means to cultivate tools for the development of the performer's presence, immediacy, and self-awareness in relation to "the other", be it the audience or fellow performers.
After graduating in 2010 from the International Laboratory of the Actor in Motion of Valencia, he traveled to Barcelona to complete a Bachelor of Arts in Physical Theatre, at the Institut del Teatre (2015). From 2010 to 2016, he worked as an actor, co-director, singer and dancer in numerous performances with theatre directors and choreographers such as Ximo Flores, Lluis Graells, Jordi Basora, Pedro Galiza, Amalia Fernández, Eulàlia Bergadà and Andrés Corchero. He also collaborated as an actor with Obskené Theatre Company and with MOVEO physical theatre in "Tu vas Tomber" directed by Stéphane Lévy (Winner of the public award in the Festival Internacional de Danza de Huesca 2016, as well as the award For Emerging Artist – Festival imaginarius of Portugal).
His artistic research lead him to continue training with specialists such as LosCorderos.sc, Gey Pin Ang, Milòn Mela, Pere Sais, Teatr ZAR, Natalka Polovynka, Matej Matejka, Carlota Subirós, and Alejandro Tomas Rodriguez.
From 2016 to 2022, Javier worked at The Workcenter of Jerzy Grotowski and Thomas Richards – National Theater / Teatro Della Toscana, where he delved, under the direction of Thomas Richards, into the praxis of the performing arts research initiated by the Polish theater master Jerzy Grotowski based on ancient songs of tradition and theatre arts, that Thomas Richards developed after Grotowski's death. He performed with The Workcenter in Europe and Latin America in the performances "Sin Fronteras", "The Underground", and "Songs of Tradition".
Currently, he is studying the Master of Arts (MA) – Contemporary Physical Performance Making (CPPM) at the Estonian Academy of Music and Theatre (2022-2024).
In 2022, Javier founded the NO(W)HERE – Performing Arts Lab, with which he continues his nomad pedagogical activity started in 2015, and the creation of live performances as a result of the laboratory's research and in collaboration with other artists.
The laboratory is for Javier the ground where to practice, re-search, re-define oneself, re-invent one's artistic practice and re-think one's relation with the world.
https://www.nowhereperformingartslab.com/