CPPM MANIFESTAL. Seohwon Ji: I AM WONDERING SO, I AM WANDERING
14.05.2021 at 21:00
Live stream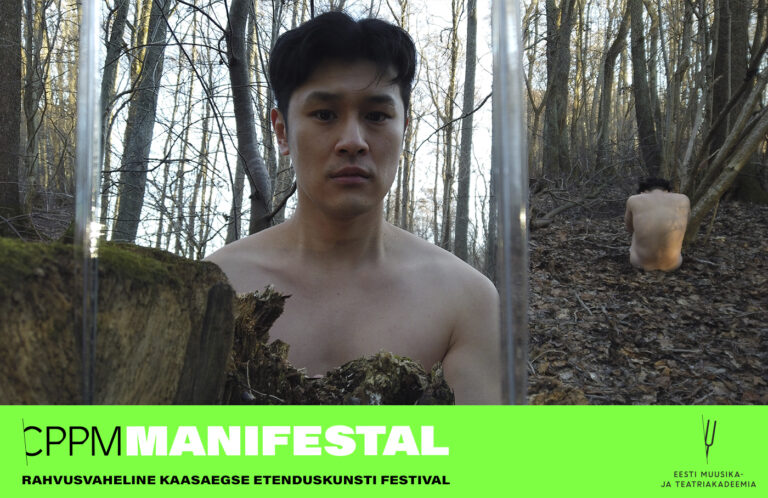 Human life is a journey.
Time is always with you on your life trip.
And all humans have time fairly.
But humans use time as their own way of life.
Depending on the situation, time feels slow or fast.
So humans make plans to make good use of their time.
But it doesn't always go as planned.
But if it doesn't go as planned, not everything is unstable or sad.
Because sometimes humans lose something, but they get a lot from it.
It's raining today, but the sun can rise tomorrow.
It is because you can see the stars only when there is darkness, and you can feel happiness when you have pain.
Humans live in relationships with everything that lives in space.
And we live in balance with each other.
To achieve balance, opposite properties must establish relationships and balance movement as constant vibration for balance.
And there has to be interaction between them.
Only when others exist can they know their existence, and each person's existence gathers to create a community.
So human life is balanced and symbiotic.
If there is a conflict of balance, we meet the question mark.
Question marks mean a series of questions, doubts, and curiosity that come from a relationship, and allow you to decide where to go on the journey of human life.
And when we realize something in balance and conflict is resolved, we meet an exclamation mark.
Exclamation marks mean answers, definitions, or realizations about them, and allow humans to make choices on the journey of "life."
Decide and choose… And balance.
Humans are going somewhere wearing shoes called "feel signs" with a cane called a "question mark".
I'm heading to an invisible place where I can feel it.
I can't touch it, but I can smell it.
But I'm wandering because I'm wondering.
It's within our time that you're here.
It could also be that we're in your time.
We are living together in the same space like this way.
Who are you?
What is your name?
Where are you from?
Why are you here?
We're going to travel together now. At this time.
And whether the end of this trip is a question mark or an exclamation mark, you choose and decide.
Are you wondering?
Then shall we wander together?
Director SEOHWON JI (KOR)
Sound Designer ABOU IT (KOR)
Performers DONGBIN LEE (KOR), SEOHWON JI (KOR)
Thank you: Dongbin Lee, Donghee Lee, Eunjeong Ji, Elena Perales Andreu, Jüri Nael, Liina Jääts, Vilja Lige, Priidu Adlas, Nikita Shishkov
Seohwon Ji (1989) is an actor, dancer, choreographer, and director from South Korea. He graduated from Seoul Traditional Arts High School and Chung-Ang University, where he studied theatre, directing, modern dance, Korean dance, singing, and traditional mask dance. He has performed at the Arts Festival in Singapore, the Auckland Arts Festival in New Zealand, the Akita Dance Festival in Japan, Aspendos International Opera Festival in Turkey. His awards include the Grand Prize on 36th Seoul Dance Festival "Horn" in 2015, and the Musical Award on Daegu International Music Festival (DIMF) in 2018. He developed an artistic methodology called HEBS (Happening, Energy, Breath, Sound & Space), that is investigating ways in which these actions establish the creative process of performance as well as organize the structure of it.
***
Tickets are available HERE.
This is a live stream of the performance. Purchase an online ticket to watch this via elektron.art. The performance is followed by an artist talk moderated by Marie Pullerits.
To watch all live streams and artist talks of the festival, buy the online pass! You can find the live stream timeline and more detailed information about the festival pass HERE.
***
CPPM Manifestal is a celebratory international festival presenting the works of contemporary physical performance making MA students, who have been following the programme at The Estonian Academy of Music and Theatre for the past two years. The diverse programme for the first festival holds 14 premieres of timeless and up to date topics: evolution, power, toxic love, exile, failure, time and pandemic related restrictions, to name a few. More info: manifestal.ee