CPPM MANIFESTAL. Marshall Stay: AND ONCE AGAIN WE ARE ALONE
25.05.2021 at 20:30
Manufactory Quarter, Events Hall
Event in Facebook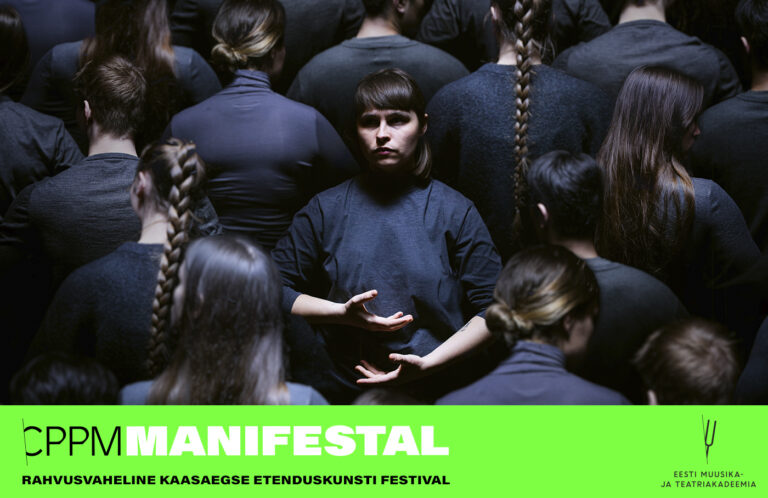 "But for the present age, which prefers the sign
to the thing signified, the copy to the original,
representation to reality, appearance to essence …
truth is considered profane, and only illusion is
sacred"
Ludwig Feuerbach
We have chosen to come here. To come to this place.
To be more than a bystander, or an onlooker.
A place that collides us; a place where a fusion may occur.
and once again we are alone
Because we all just want to be taken care of.
Because we all just want to be told it's going to be okay.
and once again we are alone, together amplified, synchronised, multiplied.
Looking and being looked at, being seen and unseen, at the same time.
Inhabiting the place
accepting the inescapable gaze
of the all-seeing eye.
Breaks, pauses, absence of flow, tearing, disintegrating into each other, becoming one, more than one, forsaking the self.
Projecting selves.
Orbiting perceptions.
Driving ripples into darkness, longing to be told it's going to be okay.
and once again we are alone
Director & Sound Designer MARSHALL STAY (AUS)
Producer MINNA-TRIIN KOHV (EST)
Audiovisual MIKK-MAIT KIVI (EST)
Lighting Designer OLIVER KULPSOO (EST)
Scenographer MADLEN HIRTENTREU (EST)
Costume FEY PIIR (EST)
Advisor ALISSA ŠNAIDER (EST)
Dancers-Devisers SEO-HWON JI (KOR), JOONAS TAGEL (EST), VALERIA JANUŠKEVITŠ (EST), HANNA JUNTI (EST), RŪTA RONJA PAKALNE (EST/LAT), AROLIN RAUDVA (EST)
Dancers MARLEEN PRÜKKEL, HELGA EHRENBUSCH, MARIA SCHOTTER, LIIS NESLER, MAARJA-LIIS URI, SOFIA MARTILA, ELINA OJASAAR, ELISABETH TEENER, BIRGITA SIIM, TEELE TAMMSAAR, MARIANN ONKEL, KARIN AARELAID, ELIISABEL JÕELA, EVELI OJASAAR, JUULIUS VAIKSOO, DONGBIN LEE (KOR)
Performances: May 24th (premiere), May 25th, May 26th, May 27th and May 28th at 8.30 p.m. Tickets are available at Fienta.
Thank you: Uue Loomingu Maja, Eesti Tantsuagentuur, Hepsor, Cultural Endowment of Estonia
Marshall Stay (1996) is a physical performer, theatre-maker, actor, director, photographer, and videographer hailing from the sunny shores of Perth, Western Australia. He trained in the Bachelor of Performing Arts (Performance Making) at the Western Australia Academy of Performing Arts (WAAPA) in Perth, graduating in 2018. In 2020, Marshall was the recipient of the Marten Bequest Scholarship for Acting, which assists his current studies in Estonia towards his MA in Contemporary Physical Theatre Making (2019–2021). Since 2017 he has worked with a number of collaborators and professional artists, creating works that have been recognized as both critical and commercial successes. Accolades include ★★★★★ and two PAWA Award nominations for DAD (FRINGEWORLD 2019), Best Show Prize, Girl & Thing (TILT 2018), Adelaide Fringe Tour Ready Award, Cockburn Incident (FRINGEWORLD 2018), nominations for Set Design and Sound Design for Floor Thirteen (The Blue Room Theatre 2019) and contributions as a collaborator and production assistant for the Best New Australian Work and Best Scenic Design Helpmann Award nominated Lé Nør [the rain] (The Last Great Hunt & Perth International Arts Festival 2019).
***
CPPM Manifestal is a celebratory international festival exploring dance, body, art, sound, multimedia and creativity.
2.05–17.06.2021
http://manifestal.ee