CPPM MANIFESTAL. Iveta Pole: BEE MATTER
17.06.2021 at 20:00
Kanuti Gildi SAAL
Event in Facebook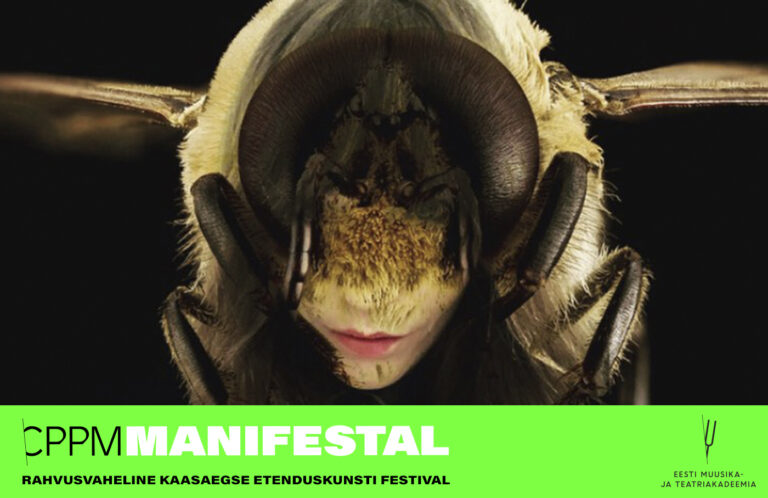 A Queen comes into being.
A Queen goes out into the sun.
I fly as far as possible towards the Sun to which I belong…
The indivisibility of reality suggests us ever-widening circuits of existence. Existence located in the agenytial manifestation of life, more significant than a human landscape of flows, systems and networks. The mixed medium performance addresses the challenge to manifest this complex reality through the in-depth metaphor of bees. The metaphor is regulated through three main agential types: a Queen, a drone and a worker.
Becoming the Queen is a matter of luck. The female Queen is selected early in larval development and fed a diet of royal jelly. The Queen leaves the hive once in her life for the virgin flight. She is the reproduction centre and the mother of the matriarchal hive. Without a queen, life in the hive grows chaotic.
A male drone has only one purpose in life: to mate with the Queen and pass on genetic material. Every sunny afternoon he will fly from his hive looking for action. In ways that remain mysterious, he will find his way to honey bee mating areas and will fly about this aerial pickup spot, waiting for a young queen to appear.
The two are made for each other. Dawn-to-dusk "escort" service of the flowers' little friends, the worker bees feed upon just those parts of the plants which are wholly pervaded by love. The individual bees renounce love in manifold ways and thus develop love throughout the whole hive. Female worker bees are the labourers for colony growth and maintenance.
Director IVETA POLE (LAT)
Video Artist KATARINA NEIBURGA (LAT)
Composer ANNA KIRSE (LAT)
Sound Designer ANDRO MANZONI (CRO)
Performers KEITHY KUUSPU (EST), LEA SEKULIC (CRO), SEOHWON JI (KOR), JOHHAN ROSENBERG (EST)
Performances: June 13th at 6 p.m. (premiere), June 14th at 6 p.m., June 15th at 5 p.m., June 16th at 6 p.m., June 17th at 8 p.m. (also a live stream event available). Tickets are available at Fienta.
Thank you: Giacomo Veronesi, Jüri Nael, Anne Türnpu, Mari Mägi
Iveta Pole (1981) is a Latvian performance artist and actor. Having earned BA in Stage Acting at the Latvian Academy of Culture, she began her career at the New Riga Theatre. Being part of one of the most acclaimed acting troupes in Latvia has been an excellent platform for mastering the actor's profession. Iveta first earned recognition in 2005 when she received the Latvian Theatre Award for "Best New Actor". Following this, she performed with the New Riga Theatre both in Europe and overseas at numerous performances and festivals and starring in both local and foreign cinema. Her collaboration with Latvian movie director Juris Poškus proved to be successful, twice winning her Best Actress at the Lielais Kristaps National Film Awards for her roles in Monotony (2007) and Kolka Cool (2011). Although her previous education and field of activity have been rooted specifically in acting, Iveta always has been intrigued by interdisciplinary artistic expressions, which is why she sought to develop herself beyond theatre and cinema boundaries. Her interest has now shifted to exploring the unknown territories between art disciplines and their set of rules. The desire to create her artistic practice led to MA studies in CPPM at the Estonian Academy of Music and Theatre, which served as an excellent new platform for analysing the potential of strategies for different artistic expressions.
***
CPPM Manifestal is a celebratory international festival exploring dance, body, art, sound, multimedia and creativity.
2.05–17.06.2021
http://manifestal.ee